German shepherds and movies have always had a close connection with each other since the cameras had started to roll. German Shepherds are robust and intelligent dogs that are most popular worldwide. German Shepherds have always been up to their traits in the battlefield, as a family member, sometimes a lovable partner, sometimes a protector, and an all-time friend. They never stopped to wonder at people and stood up to their mark in the acting field. From comedies and drama to action,  German Shepherds have always excelled in the movie roles they have been a part of. German Shepherds are no less than heroes in real life or reel life.
Let us look into some of the movies that had our beloved GSDs as a part.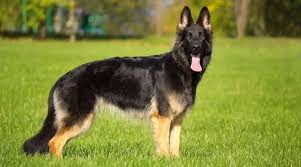 1. Shepherd: The Story of a Jewish dog (2019)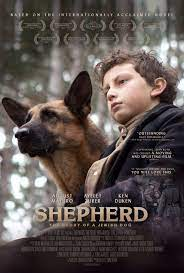 When the Nuremberg Laws are imposed in WWII Berlin, Kaleb, a loving German Shepherd, is taken from his Jewish family. An S.S. officer adopts him at a labor camp and trains him to attack and round up Jews.
2. Megan Leavey (2017)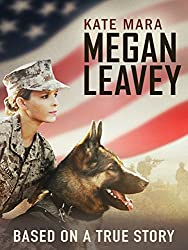 Megan Leavey, a young Marine corporal whose remarkable discipline and friendship with a military combat dog saved many lives during her service in Iraq, is the inspiration for this film.
Leavey is assigned to clean up the K-9 unit after a disciplinary hearing, and she begins to empathize with Rex, a particularly violent dog that she trains. Megan and Rex executed more than 100 missions during their service before being injured by an improvised explosive device, putting their lives in peril.
3.  A Dog's Purpose (2017)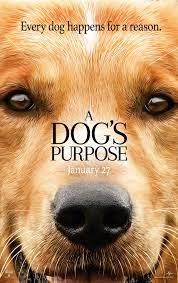 A dog seeks to discover his life's purpose for several incarnations and owners.
Runtime:

1h 40m

Director:

Lasse Hallstrom

Starring:

Josh Gad(voice), Dennis Quad, Audrey

Genres:

Adventure, Comedy, Drama

Streaming Platform:

Watch A Dog's Purpose | Prime Video
4. Scoot and Kassie's Christmas Adventure (2016)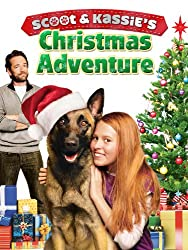 Widowed Paul Stevenson and his two daughters, Ester, 15, and Kassie, 10, have recently relocated to the winter tourist town. Kassie adopts Scoot, a retired and injured German Shepherd Dog. However, Scoot needs to save the day when two robbers plot to steal the donated money, which she and her pals organize as a charity performance to raise funds for less fortunate children.
5. Pups United (2015)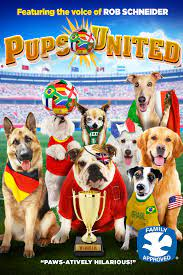 A motley crew of international talking-dog mascots must save the day and prevent villains' schemes to derail the Youth World Cup soccer finals.
6. Max (2015)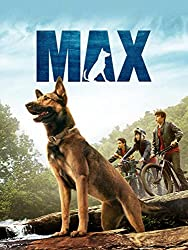 Max, US Marine Kyle Wincott's highly trained service dog, is too devastated to continue serving after his master is murdered in Afghanistan. Kyle's family adopts the dog when they return to the United States, but Kyle's younger brother Justin (Josh Wiggins) has his issues and refuses to accept the animal. On the other hand, Max could be Justin's only chance to find the truth about his brother's death.
Runtime:

1 hr 51m

Director:

Boaz Yakin

Starring:

Thomas Haden Church, Josh Wiggins, Luke Kleintank

Genres:

Drama, Family, Adventure

Streaming Platform: Watch Max | Prime Video
7. The Christmas Shepherd (2014)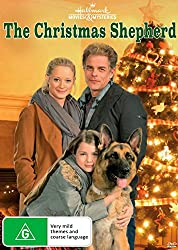 When Sally's dog runs away during a thunderstorm, she is devastated. She rushes to Boston to retrieve him after learning Mark, a widower, found him. When Sally and Mark fall in love, they are given the best Christmas gifts of their life.
Runtime:

1h 24m

Director:

Terry Ingram

Starring:

Teri Polo, Martin Cummins, Jordyn Ashley Olson

Genres:

Drama, Kid

Streaming Platform: Watch Max | Prime Video
8. Cats & Dogs: The Revenge of Kitty Galore(2010)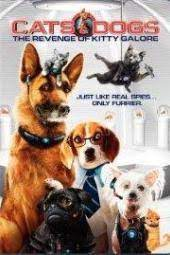 For a short time, the age-old fight between cats and dogs comes to an end. As a result, cats and dogs band together to protect themselves and their people from a villain agent working for a cat spy organization's wicked plan.
9. My Dog Tulip(2009)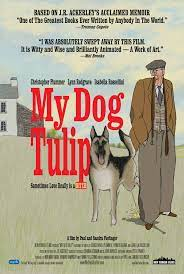 In this story, a man rescues a German Shepherd. The movie revolves around how they become friends and bond together.
Runtime:

1h 23m

Director:

P

aul Fierlinger

, Sandra Fierlinger

Starring:

Christopher Plummer, Lynn Redgrave, Isabella Rossellini

Genres:

Animation, Drama

Watch the Movie Trailer:

My Dog Tulip Trailer



10. Ace of Hearts (2008)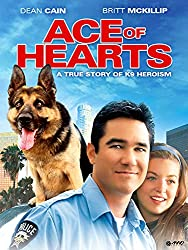 Officer Daniel Harding is a well-known K-9 officer. Ace, a German Shepherd police dog, is his best companion and partner. When Ace is suspected of mauling a suspect, an aggressive District Attorney convinces police officials that Ace should be put down. However, Harding's unwavering faith in his lifelong buddy and family drives him on a journey to clear his longtime companion's name.
Runtime:

1h 40m

Director:

David Mackay

Starring:

Dean Cain, Anne Marie DeLuise, Britt McKillip

Genres:

Drama, Kids

Streaming Platform: Ace of Hearts
11. I Am Legend (2007)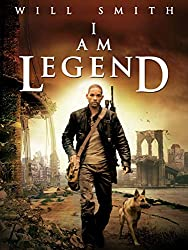 In this film, Will Smith plays a US Army virologist Robert Neville based on Richard Matheson's 1954 novel with the same name. He becomes the last man on the planet after a terrible virus turns everyone into mutants or zombies.
The film follows Neville as he goes about his daily routine with his German Shepherd Dog Sam and his quest for a solution.
Runtime:

1h 56m

Director:

Francis Lawrence

Starring:

Will Smith, Alice Braga, Charlie Tahan

Genres:

Science Fiction, Horror, Action

Watch the Trailer: I am legend

12. Scent of Murder (2002)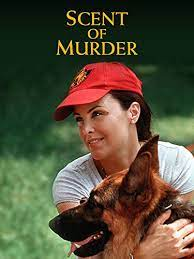 In the kidnapping of petite Zoe Hendricks, FBI agent Carol Blue was reluctant to accept local assistance, but ex-cop Chris Milos' private investigative agency proved too good. Brenna Shaw, his dog handler, and her Alsatian, Brie, track down the kidnapper who is holding Zoe and dumping her in the sea on purpose so he can flee. However, they quickly realize it is not a ransom case but rather something personal. They are approached under the Biblical name Gideon 'judge,' where they become engrossed in his macabre, vengeful games, and cruel logic.
Runtime:

1h 28m

Director:

Peter Svatek

Starring:

Sherlin Fenn, Costas Mandylor, Emma Campbell

Genres:

Drama, Mystery, Thriller

Streaming Platform: Watch Scent of Murder | Prime Video
13. K-9: P.I. (2002)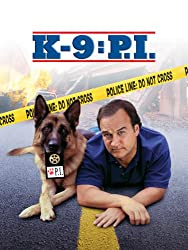 Dooley and his  K-9 partner Jerry Lee have decided to leave the force. But before he can collect his pension, he must act as a private investigator to track down a set of high-tech computer chips.
Runtime

: 1h 35m

Director

: Richard J. Lewis

Starring

: James Belushi, Gary Basaraba, Kim Huffman

Genres

: Action, Comedy

Streaming Platform: Watch K-9 | Prime Video
14.  Cats And Dogs(2001)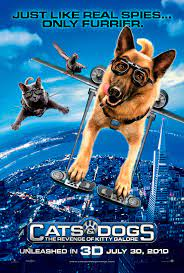 The film depicts a covert high-tech conflict between two armies of cats and dogs. Butch, a German shepherd, encounters secret spy dogs while the humans are completely oblivious. The story begins as dogs attempt to prevent cats from carrying out a sinister scheme. The Young Artist Award for Best Family Picture (Comedy) was given to this film.
Runtime:

1h 27m

Director:

Lawrence Guterman

Starring:

Alec Baldwin, Tobey Maguire, Jeff Goldblum

Genres:

Action, Adventure, Comedy

Streaming Platform:

Watch Cats & Dogs | Prime Video
15. K-911 (1999)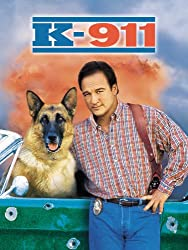 Officer Detective Michael Dooley and Jerry Lee, his loyal German Shepherd, team up for ten years. As an elderly canine, Jerry Lee finds it difficult to keep up with his police duties. Wendy Welles, a fellow officer, joins them with her fierce Doberman pinscher. Dooley, Welles, and their canine sidekick operate to combat crime.
Runtime

: 1h 31m

Director

: Charles T. Kanganis

Starring:

James Belushi, Christine Tucci, James Handy

Genres

: Action, Comedy

Streaming Platform: Watch k-911 | Prime Video
16. Inspector Rex (1994)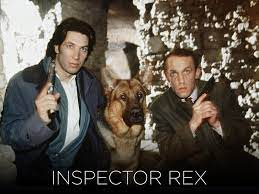 Rex, a police canine, links up with newly divorced investigator Richard Moser to investigate murders and solve riddles on the streets of Vienna after his master is slain. Inspector Stockinger, their two-legged companion, also assists them on occasion.
17. K-9000 (1991)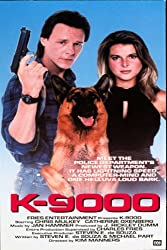 Dr. Aja Turner, a female scientist, implants a computer in the brain of a German Shepherd to track criminals. She partners up with Eddie Monroe, a tough cop who has a microchip inserted in his arm that helps him to interact with the dog.
Runtime

: 1h 36m

Director

: Kim Manners

Starring

: Chris Mulkey, Catherine Oxenberg, Dennis Haysbert

Genres

: Action, Comedy

Streaming Platform: Watch K-9000 | Prime Video
18. Chips, the War Dog (1990)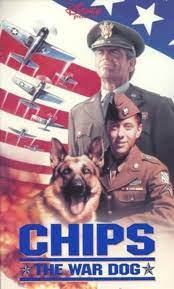 Danny Stauffer and Chips (a chicken-chasing German shepherd) are paired up in the Army's "Dogs for Defense" program during WWII in this made-for-tv movie.
Runtime:

92

Director:

Terry Ingram

Starring:

Brandon Douglas, Ned Vaughn, Paxton Whitehead

Genres: Adventure,

Drama

Watch the Trailer:

Chips, the War Dog (1990) trailer



19. K-9 (1989)
Officer Michael Dooley prefers working alone, but when investigating a known drug lord case, he was assigned a German Shepherd companion, Jerry Lee.
Dooley is initially angered by the animal but soon realizes Jerry Lee's importance.
20. We Think the World of You (1988)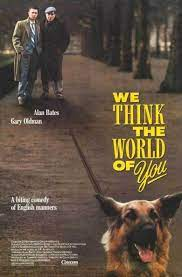 Johnny, an idle young man, gets imprisoned. Frank, his former lover, and best friend is entrusted with the care of his pet dog, Evie. He will confront challenges at home once he is released from prison. He could have to hand Evie up to Frank to make matters worse.
21. Love Leads the Way (1984)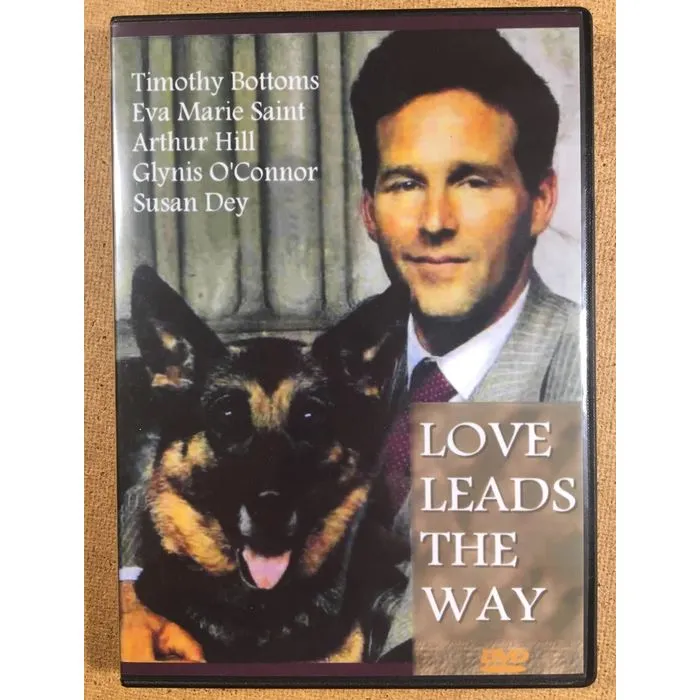 Based on an actual event, an insurance salesman's world is flipped upside down when he is blinded in a boxing accident, and struggles to function in his blind environment. He ultimately obtains a guide dog but soon discovers that he is prohibited from using public transportation and entering public buildings and shops. He and his canine friend must strive to convince the country that the rules are unjust to him and his guide.
22. Terminator(1984)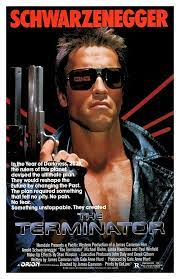 A human soldier from 2029 is dispatched to 1984 to stop an almost indestructible cyborg killing machine, sent from the same year, from killing a young woman whose unborn son is the key to humanity's future salvation.
Runtime:

1hr 47m

Director:

James Cameron

Starring:

Arnold Schwarzenegger, Linda Hamilton, Michael Biehn

Genres:

Action, Sci-Fi
Watch the Movie Trailer: The Terminator (1984) Official Trailer – Arnold Schwarzenegge Movie
23. A Dog's Best Friend (1959)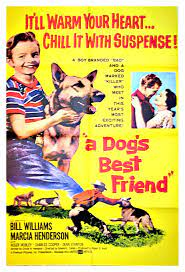 The story revolves around a young orphan who rejects his foster parents and seeks refuge with a German Shepard whose master has been murdered lately. His dog saves the youngster from the killer after stumbling upon some evidence.
Runtime:

1h 10m

Director:

Edward L. Cahn

Starring:

Bill Williams, Marcia Henderson, Roger Mobley

Genres:

Drama

Streaming Platform:

Watch A dog's Best Friend
24. The Littlest Hobo (1958)
This is a heartwarming story about a German Shepherd assisting a lamb to escape the slaughterhouse, set in Los Angeles in the 1950s. It will be ideal family entertainment, especially for children. The film may be outdated, but the dog and sheep will warm your heart.
Over 20 years, the film has inspired two series of T.V. episodes. The first ran in syndication from 1963 to 1965 before being revived for a famous second run on CTV from 1979 to 1985.
Runtime

: 1h 17m

Director

: Charles R Rondeau

Starring

: Buddy Hart, Wendy Stuart, Carlyle Mitchell, Howard Hoffman, Bob Kline

Genres

: Drama

Purchase the movie at: Amazon.com: The Littlest Hobo (1958)
25. Rusty's Birthday (1949)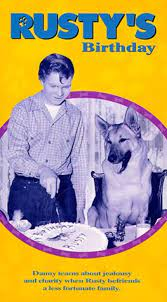 Rusty, Danny Mitchell's (Ted Donaldson) faithful German dog, is sold by a vagrant posing as Rusty's master. The dog runs away from his new owners, far from home. Little Jeff Neeley (Jimmy Hunt) and his unemployed father, Virgil, discover him injured (Ray Teal). When Rusty is spotted, Virgil is looking for a job in Danny's hometown. After Virgil is arrested for kidnapping, Danny's family takes Jeff in. Jeff does everything he can to clear his father's name.
Runtime:

1h 00m

Director:

Seymour Friedman

Starring:

Ted Donaldson, John Litel, Ann Doran, Jimmy Hunt, MArk Dennis, Ray Teal

Genres:

Drama
 26. Rusty Leads the Way (1948)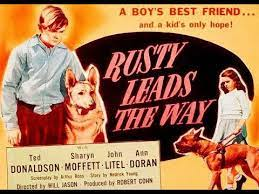 Rusty Leads the Way is a sweet story about a shy and lonely little blind girl who learns that she can live her everyday life with the help of a boy and his dog. Prepare your tissues; this is going to be a tearjerker. This is a fantastic film for the whole family, and it comes highly recommended. 
Runtime:

59m

Director:

Will Jason

Starring:

Ted Donaldson, Sharyn Moffett, John Litel

Genres:

Drama

Watch the Movie Trailer:

Rusty Leads The Way (1948)



27. The Return of Rin Tin Tin (1947)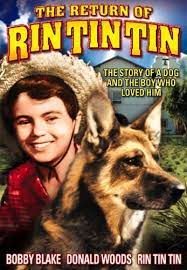 The story revolves around a boy who lives in a shell and his bond with his German Shepherd dog is the only thing that will bring him out. But the villains plan to abduct the dog from him.
28. For the love of Rusty (1947)
Danny Mitchell, feeling misunderstood by his parents (which is nothing new for this character in this series), leaves home with his dog, Rusty, and camps out near the trailer of the vet Francis Xavier Ray. During the night, gas leaks into the trailer, and Rusty saves the vet from drowning.
Runtime:

1 hr 8m

Director:

John Sturges

Starring:

Ted Donaldson, Tom Powers, Ann Doran

Genres:

Drama, Adventure
29. The Return of Boston Blackie (1927)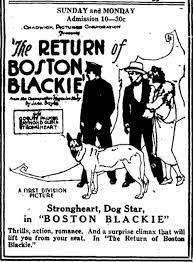 Gentleman thief Boston Blackie  undertakes the reformation of a gorgeous blonde who had stolen a jewel from a dancer and, fresh out of jail and promises to become straight. However, when Boston Blackie discovers that the jewels belong to the girl's philandering father, he rescues the day by completing one final task: reinstalling the necklace in its owner's safe.
30. The Lighthouse by the Sea(1924)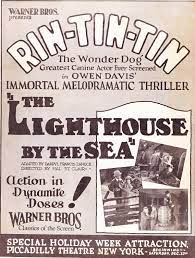 The authorities will take a lighthouse keeper and his daughter if they discover he is going blind, while a band of smugglers is attempting to demolish the lighthouse so they may dock their illicit cargo on shore without being seen.