As an influencer, you may want to gain the trust of your followers. In spite of having a custom content strategy in place, your audiences may be looking out for immediate authentication to ensure they follow the right person. In this way, the blue verification tick offers the perfect solution for Instagram followers. Although it can be difficult to get verified on Instagram, you can do it if you understand its requirements. Dive deep to know more.
What Does Instagram Verified Mean?
Instagram verification is the process of verifying the genuinity of a public figure, celebrity, or global brand to differentiate it from a fake account in the same name. Once verified, these accounts carry a verified badge that features a small blue check mark. These marks appear next to an Instagram account's name in search and on the profile. Therefore, this tool helps Instagram users locate the real accounts of public figures and brands, making the account Instagram verified. However, adding an Instagram-verified badge doesn't give any priority to your content to show up. On the contrary, they give your followers an assurance that they are following the real brand or celebrity.
It is pretty tough to verify yourself on Instagram. You need to be first established in a different social media account. Following this, they will scrutinize your account's press coverage, analyze your cultural impact, and verify if you are already part of community talks, or have recently gone viral.
Benefits of Having an Instagram Verified Badge
Your business or brand needs an Instagram-verified badge when you risk imitation from a fake account. Hence, some of the advantages of getting this badge are:
It showcases the uniqueness of your brand.
It improves brand awareness and multiplies your followers.
It effectively safeguards your brand from imposters.
Enhances your reputation and builds trust amongst followers.
Attracts brands for collaboration.
Helps locate your brand on social media.
Provides early access to the "swipe up" feature.
The swipe-up feature is available without any restrictions for verified accounts. This feature gives you the flexibility to repurpose your content from other social media platforms to Instagram stories.
Verification on Instagram
Although the process of requesting a verification is simple, verifying your account depends on several factors. Despite your eligibility, a mere submission doesn't guarantee that your account will be verified. There are some initial prerequisites you need to consider before applying for verification. This includes:
Prerequisites To Get Verified On Instagram
To get verified on Instagram, you must be active on the platform. In addition, you must have a recognizable brand, at least with a smaller follower base, provided you meet specific account and eligibility criteria.
Firstly, you must agree to the Terms of Service and Community Guidelines. Secondly, you must comply with the below-mentioned requirements to get verified even if you are growing as an influencer on Instagram. Additionally, the number of followers is not a deciding criterion.
Genuine: Your Instagram profile must be a representation of a real person or business.
Unique: There must be no other account that represents you or your business.
Completed profile: Your profile should have a completed bio, a profile picture, and at least one Instagram post.
Not Private: Only public profiles can get verified on Instagram.
Noteworthy: You or your business should be well-known or often searched for or mentioned in multiple news sources.
Once you are ready with the prerequisites, you need to follow the following steps:
Steps to Get Your Instagram Account Verified
Step 1: Go to your profile and tap the hamburger icon in the top right corner.
Step 2: Tap on settings > Account> Request Verification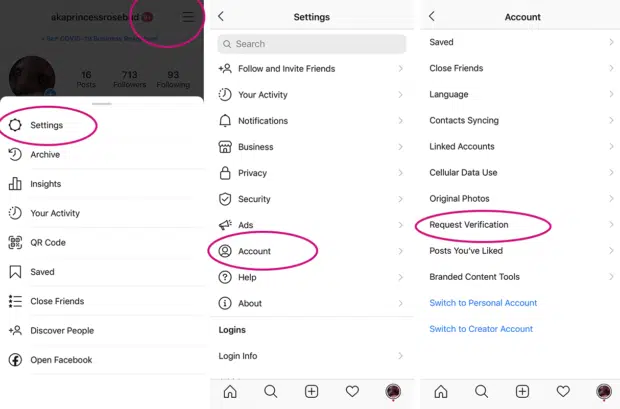 Step 3: This opens "apply for Instagram verification," which you have to fill out to send your application:
Your legal name.
Your "known as" or working name (if applicable).
Select your category or industry (for example blogger/influencer, sports, news/media, business/brand/organization, etc.).
You also need to submit a photo of your official government ID. For individuals, that could be a driver's license or passport. For businesses, a utility bill, an official business document, or tax filings will do.
Step 4: Tap Send.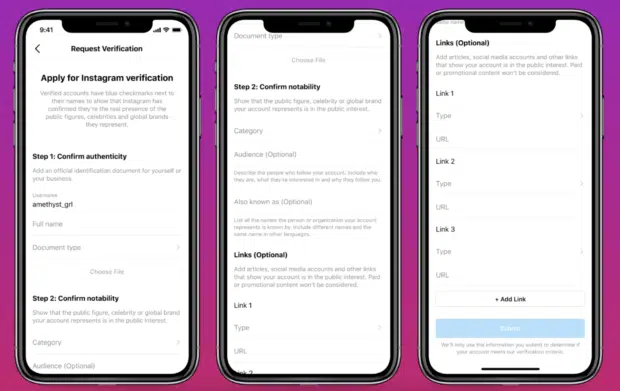 Once your application is sent, the Instagram team reviews it and responds. You can find the response for your application in your notifications tab. Also, remember that Instagram will never ask you to pay for any verification process. Additionally, considering scammers, they never reach out to you through email. Therefore, your responses will look like the following examples:
This is what a 'no' looks like:
And here's a 'yes':

How Long Does It Take to Get Verified on Instagram?
Once your account verification request is reviewed, you will get a response on its status in your activity tab within 30 days from the date of receiving your application. In case of a denied request, you can resubmit a new request in 30 days. Further, your application will be subjected to cancellation if you apply multiple times for a verified badge before receiving a decision.
Losing Your Verification Badge
You must be aware of some activities that will lead you to lose your badge or disable your account. Some of these include:
Switching your account from public to private mode multiple times.
Using a third party to verify your account.
Advertising, selling, or transferring your verified badge.
Use your profile to promote other services or activities.
Activities that contradict Instagram's Community Guidelines or Terms of Use.
If you furnish any false or misleading information.
What To Do If You Can't Get Verified On Instagram?
A verified badge proves your authenticity to your followers. However, if Instagram doesn't verify your account, adopt other ways to showcase your trustworthiness. For example, you can link your official websites, Facebook page, Twitter, or YouTube account to your Instagram account. However, Facebook verification requires a separate authentication process.
Tips To Get Verified On Instagram
Despite your rejection, you can follow some best practices to improve your chances of success the subsequent time you try. They are as follows:
1. Be Persistent In Your Approach To Verifying Your Account
Suppose you fail in your first attempt to verify your account. In that case, set your goals, double up your efforts, and concentrate on building your followers to be the center of attraction. But, of course, you can do all this while you wait to apply at your next turn.
2. Maintain Transparency
If you want to verify your account, you have to try and be honest in all possible ways. This means you should refrain from buying any verified badges from third-party apps or random accounts for your account. Further, you should use your real name and choose the correct category. Additionally, ensure you don't forget any government documents.
3. Be Vigilant Of Imposter Accounts
If an unauthorized fake account constantly mimics your brand, then you have to consider applying for verification on Instagram. Through confirmation, you can reassure your followers that they are following an authentic brand.
4. Multiply Your Followers
The most effective way to multiply your followers is to use the best content strategy that wins. For this, define your target audience and tailor your content to match their needs. Of course, you must always have a consistent brand story with appropriate keywords and hashtags to reach your new users.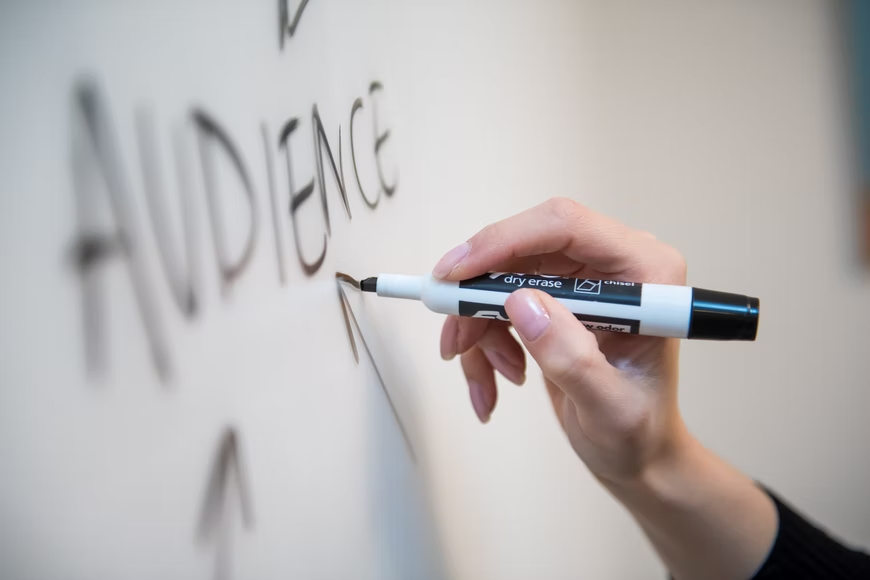 5. Be The Highly Sought-After
Instagram measures your celebrity score based on how many people organically search for your brand name in the search box despite the distracting feeds on their profile.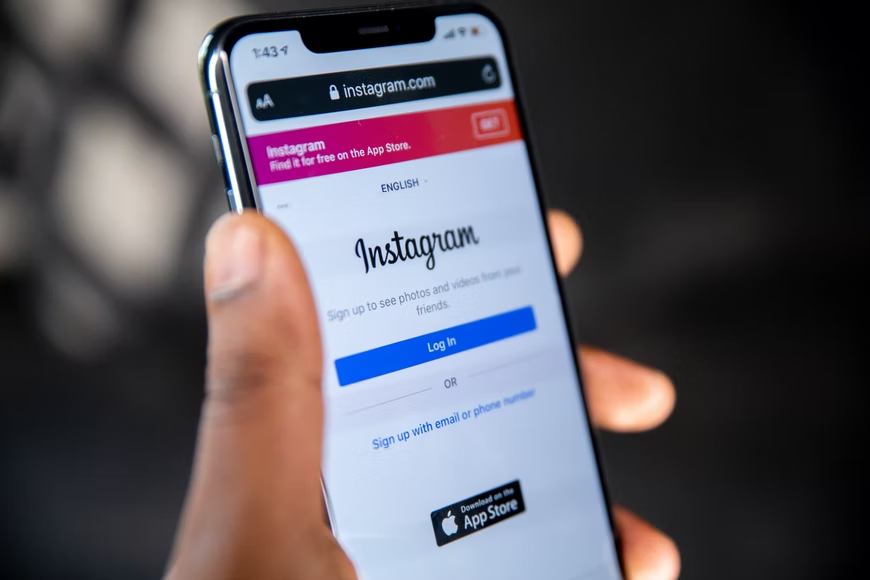 6. Request Verification Amidst News Sources
Your chance of getting verified improves if your brand has:
Featured in multiple news sources.
Done a recent press release.
Got your white paper picked up.
A profile in a major international publication.
Gone viral recently.
A big announcement to make.
7. Hire An Agency Or Publicist
You can also hire an agency or publicist who has access to a media partner access account to get your accounts verified through their industry-only portal. In this way, you can stand different from the crowd.
8. Optimize Your Profile
Apart from having a bio, a profile pic, and minimum posts, you must have new followers and conversions. This will attract the verification team's attention to verifying your profile.
9. Have a Diversified Presence
Apart from building your reputation on Instagram, it would be best if you prefer getting on Twitter, YouTube, Facebook, and TikTok. Your reputation across channels helps you see the potential of your brand and reach new audiences.
10. Top The Search Results With SEO
Get the advantage of topping the results of your Instagram search with the help of SEO. Choose keywords that relate to your brand and use these in your posts. This way you can ensure to reach the top and gain visibility.
11. Boost Your Brand Awareness
Spread your influence in the industry and gain an online reputation. This way, you can get mentioned in news publications, blogs, and magazines of your industry. Furthermore, since the Instagram team checks your online presence and reputation, it will increase the chances of your account getting verified.
12. Proactively Use Instagram To Your Benefit
Finally, stay active on the platform, explore its various features, and use it to your advantage.
Post new and unique content specific to Instagram daily.
Take advantage of Instagram stories to engage with your followers.
Adopt the carousel format to maximize your engagement.
How To Stay Verified On Instagram?
Getting verified on Instagram is only an initial step. To stay verified, you have to abide by the rules enlisted below:
Remain in Public mode
To remain verified you need to maintain your account visible to the public.
Stick to the rules
Ensure not to flout Instagram's 'Terms of Use and Community Guidelines' to prevent your account from getting disabled or deleted.
Strategize your Instagram posts
To remain active and promote engagement, you need a good content strategy in place to attract followers.
Security Tips To Follow Post-Verification
Once verified, you have to secure your account. For this purpose, you need to change certain aspects that help keep your account safe:
Strengthen your password
A combination of at least six numbers, letters, and punctuation marks strengthens your password. Additionally, ensure the password you choose is unique from the list of passwords you use on the internet.
Regularly change your password
In the event of an automated security check, Instagram recovers stolen login information from other sites. In addition, if someone accesses your password, Instagram alerts you to change it and prevents you from being hacked. This way, regularly changing your password helps secure your account.
Turn on two-factor authentication
Two-factor authentication is a security feature to safeguard your Instagram account and password. With this feature, you will be prompted to enter a unique login code when someone logs in from an unrecognized device. You can derive the unique login code two ways, and you must have at least one of them to use this feature.
Login codes from a third-party authentication app (such as Duo Mobile or Google Authenticator).
Text message (SMS) codes from your mobile phone.
Share your password wisely
Never share your password with someone unknown or untrustworthy. Additionally, never use your passwords on devices that you share with others. Finally, remember to turn off the "remember me" box when logging in from a public computer and take care while authorizing a third-party app.
Secure your email account
Since your emails are also a storehouse of passwords, ensure to secure them. For this purpose, change the passwords of all the email accounts so that no two accounts have the same password.
Frequently Asked Questions
Can I transfer my verification badge over to another account?
No, you cannot transfer your verification badge from one account to another.
What happens when Instagram detects a suspicious or malicious verification?
Instagram detects malicious activities through its regular sweeps on and off-platform. Accounts found with such activities will face consequences as applicable.
If your account verification was acquired in a malicious way.
If you sell verified accounts to others.
Videos
How to get verified on Instagram?
How to get verified on instagram in simple steps
Can Anyone Get A Blue Check on Instagram?
Final Thoughts
Although the process of requesting a verification seems simple, it is challenging to get your account verified on Instagram. However, you can obtain the same quickly, provided you are active on other social media platforms. Follow our guidelines to make it easier. If you have received a verified badge on Instagram, remember it is a well-earned privilege that you shouldn't lose on any account