Despite the ever-changing ways music and technology have evolved, music videos continue to play a significant role in promoting an artist's career whether on YouTube or elsewhere online. Because of this, it's important to know how to make a music video that adequately portrays their artistic power.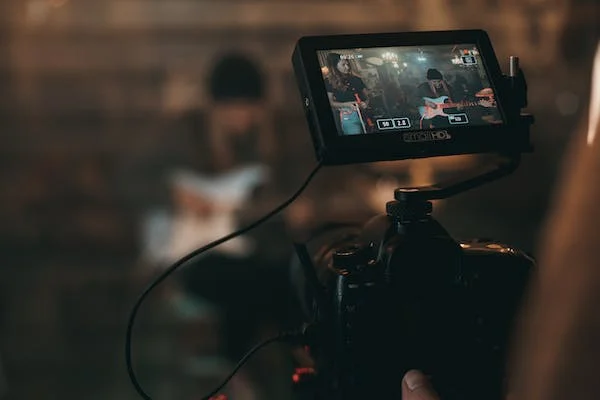 17 Steps For Making a Great Music Video
If you're an aspiring filmmaker or producer, learning how to make a music video can help build your professional portfolio. No matter your budget, there are several ways to make a quality music video to help with your future endeavors. Consider these steps to create the ultimate music video:
1. Develop the concept. Before you start shooting, talk to the artist or band to determine what they want to get out of the music video. In addition, it's important to get familiar with the song they want to use and ask the band if they have ideas that can help you plan out the music video. You should also consider the budget you're working with and plan accordingly.
2. Study videos for inspiration. Before you start the planning process, look up other successful videos and determine what worked and what didn't. These music videos can give you the drive and inspiration you need to make a successful video of your own. They can also help you determine how to tackle controversial topics, such as gun violence like Childish Gambino does in the following video:
You can also find inspiration for more fun and lighthearted videos like the following from Dua Lipa:
If you want inspiration for a video that travels to different locations, check out "Boys" from Charlie XCX:
There are also plenty of ways to incorporate a product placement like Ella Mai does with Lyft below:
3. Consider your budget. Before you plan anything for the video, establish the budget. Knowing how much money you have to spend on the music video can help you save money and ensure you don't go over budget.
4. Scout locations. Think of where you want to shoot your video based on the music video's theme and the storyline you're presenting. Try to shoot in one location instead of many to make the process simpler, especially if you're working on your first music video or a smaller project. If you opt for multiple locations, visit each of them ahead of time to determine if they work with your overall vision.
5. Plan the shoot. Determine what crew members and equipment you need for every shot. You can also create a schedule to determine who and what is needed for each part.
6. Create a storyboard. Build a storyboard that involves shot-by-shot sketches for the entirety of your music video. Consider the camera angles and the types of shots you want, such as full-length shots or closeups of the actors or band members.
7. Find your film crew. Make sure your set has a camera person, a lighting person, a director, actors, dancers, choreographers, a gaffer, a sound man, a grip, a wardrobe, props, continuity, and obviously, the musician or band members. Once everyone's assembled, share your storyboard with the appropriate teams. If you have the skills and time, consider taking on more of these roles yourself. The more work you take on yourself, the cheaper your project will be.
8. Get the necessary equipment. The equipment you use ultimately comes down to what you want to accomplish, the desired quality of the video you want to make, and your budget. Make sure all crew members have the equipment they need to fulfill their roles, such as a video camera to capture footage from each shoot. You'll also likely need props and a wardrobe for the band or actors. To help you haul your heavy gear from location to location, make sure you have proper transportation gear and a vehicle. Other helpful gear and equipment include a tripod, extra storage memory, an external microphone, and spare batteries for your camcorder.
9. Start filming. Once you've made the proper preparations, start the shooting process. Keep track of the shots you've already completed, and aim for several good shots of each scene so you have options when you put it all together. It's also important to bring food or allow your team to take a food break as needed. You should even play the music as you film to help set the tone, put everyone in the right frame of mind, and help actors and artist lip sync.
10. Get the lighting right. No matter where you plan to shoot, it's important to consider the lighting. It's even more important to consider low-light settings, as many camcorders lose recording quality with less light. If you're working on a budget, consider shooting outdoors for some good natural light. Depending on your camera equipment and its built-in light, you may be able to shoot just fine within a well-lit indoor location. You can also purchase lighting kits if needed.
11. Capture live footage. Consider capturing footage of the musician or band playing live. When you film at a gig, you're able to capture the energy of the band along with their interaction with the audience. You can choose to mix the live footage with the other footage from the original shoot. If you're shooting an entirely live video, make sure your team has the expertise to take this on.
12. Consider using stock footage. If you're looking for additional footage, consider using copyright-free stock footage from royalty-free websites. Stock footage can save you time and money, and it helps when you can't get the shot you're looking for.
13. Get creative. Think out of the box to give your video a unique touch, such as playing with color saturation. Whether you look on MTV or YouTube, you're sure to find videos with musicians playing to an audience with flashing lights. If you go for something like that, make it original, but don't overdo it. Whether you're going for a simple video, or something more elaborate like this video that takes hours to create, the choice is yours. If you need some inspiration, check out this video from OK GO or this one that was shot in zero gravity:
Overall, having a creative video will help catch a viewer's eye and make it easier to promote online. Not only that, but it'll also be a great addition to your portfolio if you're an aspiring filmmaker or producer.
14. Avoid excessive zooming and special effects. When you zoom too often or use an abundance of special effects in your video, it can be distracting for viewers. Make sure to use these video features sparingly. If you're looking for a new element to add to your video, consider adding sound effects, such as the sound of footsteps or street noise.
15. Use the right editing software. Begin the post-production phase by transferring your video footage to a computer. Choose a software that works best with your computer or that you're comfortable using, such as iMovie or Adobe's Premiere Elements. You can also try Apple Final Cut Pro or Adobe Premiere Pro and use Musician Video Maker to sync your audio and video.
16. Make sure your computer or digital device has enough hard drive space. If it doesn't, invest in an external hard drive to store your footage. Depending on your video's destination, determine a suitable output format. For example, if you want to publish a video on YouTube, make sure it's optimized for the right resolution and video quality.
17. Use the music. Be sure to listen to the song and incorporate it into your video to make sure it syncs up with every shot.
For even more amazing tips, check out Alt Press's take on what makes these videos awesome.
How To Shoot a Music Video With a Green Screen
With a green screen, you can insert someone into a "fake" background using computer effects and graphics. Here's how to do it:
Have your subject stand in front of a green screen as you record.
Avoid having them wearing any green clothing or accessories.
Use additional lighting to help edit out the background during post-production.
When you edit the footage, cut out all the green and add your desired background.
Now that you know how to make a successful music video, it's time to put on the videographer's hat. Consider checking out the programs we have available at the National Film Institute to help you sharpen your skills.