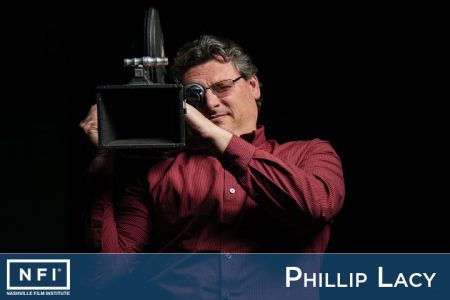 Phillip M. Lacy
Program Director
B.S.C. and M.F.A. in Motion Picture Production from the University of Miami, Coral Gables, FL. (IMDB)
Worked on the feature films "Cat Chaser", "Miami Shakedown" and after moving to Louisville, KY  "Suspisions" before writing and directing the feature film "Waiting for the Giants".  Directed and shot two season of the travel show "Estelle's Paradise" while directing the second half of the first season of "What's Up Spike?"
Favorite quote:  "The first quality of a Director is to see." -Michelangelo Antonioni
Student advice:  Once you begin, you will never stop learning about film, it is a language that is ever changing, ever growing, and once you think you know it all, the industry will just go on by you.  It is your job to make the most of your opportunities at school with your instructors and your collegues and never forget that actions speak louder than words.
An independent filmmaker for years, Phillip has been behind the scenes features films, television series and several commercials, promotional and educational videos.  Often operating as a "One-Man Band", having to write, direct, shoot and edit video for clients, this experience has been very rewarding and has accounted for quick decision making.
Phillip has taught cinematography, lighting, editing, directing, animation, screenwriting and film production at the University of Miami as well as colleges in Nashville, Louisville, and Southern Indiana.
Phillip loves living in Watertown, TN with his wife, Kim and their two dogs, Pepper and Willy.