Production Design
Production design includes all the visual elements that make up the concept of a theater production, television program, or film.
The Creators of Worlds
Production designers are responsible for overseeing the overall look and feel of a production, working with a team that creates the props, graphics, and sets, and managing the department that scouts filming or production locations.
Is Production Designer the Role For You?
This role is ultimately responsible for managing the backdrop of the production's story, as well as ensuring that the audience has a grasp of when and where things are taking place. If you are interested in taking on the work involved in creating the visual aspect of a production, it may be a good fit.
How They Do What They Do
A production designer works with most other parties involved in the production, including those who handle hair, makeup, and costumes for the performers, the cinematographer, and the director. The finished product should reflect the vision of the production designer.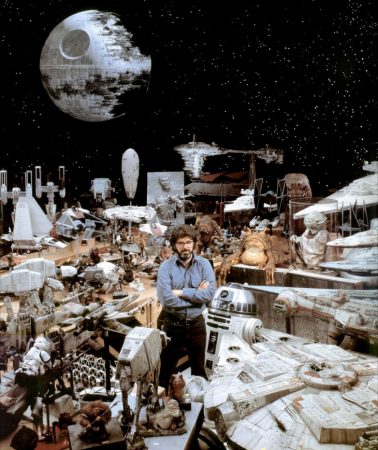 Source: Star Wars
What Is the Difference Between a Production Designer vs. Art Director?
A production may have both an art director and a production designer, but many people don't understand the difference. Art directors have more specialized skills, often working under production designers on the set. A production designer focuses on the overall visual representation of the story and works closely with the director, while an art director will work more closely with the crew and support staff to ensure that tasks are carried out to turn the production designer's vision into reality.
How to Become a Production Designer
Becoming a production designer often involves gaining experience in the industry. Some production designers choose to attend college, while others work their way up through the various roles on a film set to gain experience.
What Kind of Production Design Education Do I Need?
A bachelor's degree is beneficial in the production design field, although it isn't always necessary. However, going through an educational program can help you build some of the skills needed, including those related to graphic design and the most commonly utilized design programs. Like other creative fields, production design is an area that requires proven skills, hard work, and strong connections.
What Skills Are Required for the Production Designer Role?
In order to succeed as a production designer, you need certain skills. One skill is the ability to manage others, as this role is often responsible for delegating design-related tasks and ensuring that they are carried out correctly. Other critical skills include teamwork, creativity, and multitasking.
On the technical side, production designers need to have experience in InDesign, Photoshop, and AutoCAD.
What Kind of Production Designer Salary Can I Expect?
The salary range of production designers is wide, starting at $34,400 per year and going up to $84,000, according to CareersinFilm.com. However, the salary ultimately depends on the budget of the project you're working and whether you are a member of a union.
Do I Need to Join a Production Design Union?
Joining a union of production designers can help you receive more consistent work and higher pay rates. Some production designers choose to join unions, and many high-profile TV and film production companies require staff members to be in unions.
What Should I Include in My Production Designer Portfolio?
Experience is highly valued in this area, so look for opportunities to work on production sets in any capacity and maintain a portfolio of your work. This portfolio should include images of your best work, including the most interesting or unique themes you worked on, along with theater, TV, and film clips.
Who Runs the Design Team?
On a set, the design team typically includes a number of people, all responsible for different roles. Today's production designers are acknowledged as the design department heads, overseeing the prop masters, set decorators, art directors, and others on the team.

Source: Lord of the Rings
Why Is Production Design So Important?
The design of a production ultimately brings the story to life and encourages the audience to engage and interact with it. The details that make up the background of the story also contribute heavily to its overall emotional tone.

Source: Inception
How to Use Production Design to Make Your Film Stand Out
Using objects, costumes, and backdrops, a production designer can help the audience understand how they should feel about a situation in a story, as well as believe it to be realistic.
A Believable World
One of the responsibilities of a production designer is to create a setting for a story that is believable to the audience watching it. A film asks a viewer to enter a different world than the one in which they live.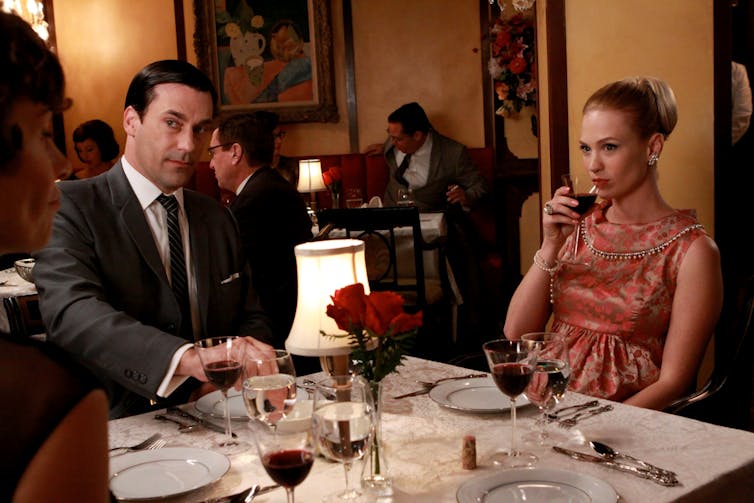 Source: Mad Men
Production Design: The Three-Part Process
The process behind production design often has three distinct phases:
There on Day One
The first phase is the concept, which is developed by reading the script, meeting with the cinematographer and director, and visually representing ideas.
Doing the Homework
The next phase is planning, which involves more of the technical work. The production design team will perform research on locations, create blueprints for set construction, develop or review budgets, and determine what items will be needed to represent specific scenes.
Making the Story Come Alive
The third phase of production design is fabrication, which is when items are constructed and procured for the production. Others involved in the visual aspect of the production will also get involved, including the costume designer, dresser, makeup artist, and set decorator. After this phase wraps, the cast, crew, and director begin filming.
Realism and Stylization
When creating the world of a production, a designer works closely with the director and cinematographer to visually represent the story in an appealing way. The production designer makes decisions about every object or element that is created or used in the film, show, or play.

Source: Star Wars
Make a Better Film By Design
A production designer must apply certain principles to help their creations stand out and add value. They must also take the time to plan out the production elements to make each project better.
Creating Completely New Worlds
Some designers take a more stylized approach to their work, while others strive to create realistic settings and designs. The genre of the production will typically factor into the style decision, as will the director's vision for the finished product.
What Is Good Production Design?
Before you can understand what makes good production design, you must first understand the purpose and existence of design. A design involves creating something in a way that appeals to those looking at it aesthetically. Good design is both aesthetically pleasing and functional at the same time.
Famous Production Designers
One of the most well-known production designers in the industry is William Cameron Menzies, who worked on the set of "Gone With the Wind" and many other famous films. Some of the work of certain production designers inspired future productions.
Take a Look at These Productions
Many Hollywood films stand the test of time for elements of their production design. Examples include "2001: A Space Odyssey," which involved creating a world that doesn't exist, and "Blade Runner," which created a powerful vision of the future that became quite common in dystopian science fiction stories set in the 1980s.

Source: 2001: A Space Odyssey
Production Realities
It's important for those interested in working in production design to understand the collaborative work environment and realities of this line of work. Production designers are constrained by the vision of the director and the desires of the producer. Others in the design and art departments on set will also answer to the director, so that is who ultimately has the final say in the overall look of the production. Certain technical realities exist as well, such as the photographic process, lens choice, and film stock usage.
Directors and Designers
Production designers work closely with directors on set, as they are generally the two with the strongest visual senses. They must collaborate to understand one another's vision, and the production designer will use their skills to create that vision.
Production Design and the Audience
Elements used in production design impact the audience and their interaction with the story and characters. Their design may also be used to manufacture items from the film or show.
What Every Designer Should Know
A production designer needs to know certain aspects of the industry to succeed:
Know How to Break Down a Script
Production designers need to know how to break down scripts, which involves reviewing them, taking notes, and collaborating with the director with certain shots and camera angles.
What to Remember
A production designer must be familiar with performing research on different time periods and elements, as well as determining whether a set should be built or an existing space should be adapted or transformed. Designers also implement CGI and other special effects into their work that align with the theme.
A filmmaker on a tight budget may also benefit from following several tips when it comes to production design on the project.
How to Get Started – Become a Production Designer
The first step to working in production design is gaining experience. Working on a film, TV show, or theater set in any role can help you form connections and become more familiar with the production process. Going through a relevant educational program is also beneficial for your career and can help you meet others in the industry.