The Madhavan-starring and directorial debut Rocketry: The Nambi Effect is a much-awaited biographical Indian drama film. This film is credited for being premiered at the 2022 Cannes film festival. While not part of the festival's official selection, the screening of Rocketry marks the celebration of India as 'the country of honor'. The official trailer of Rocketry: The Nambi Effect was released on April 1st,  2021.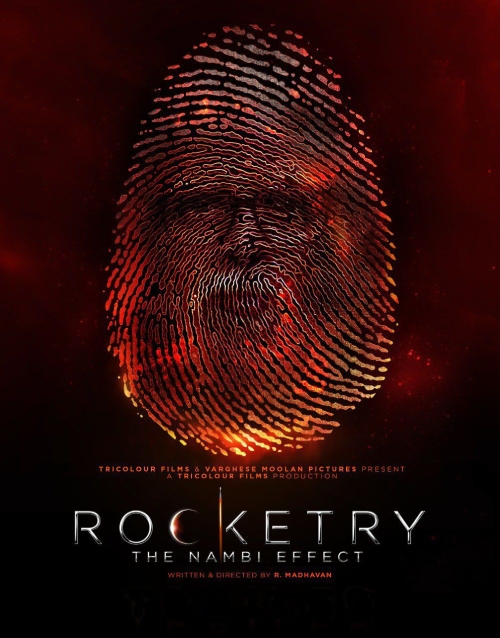 Story, Screenplay, Dialogue & Direction:

Madhavan 

Language:

Tamil, English, Telugu, Hindi

Genre:

Biography and Drama

Main Cast:

 

R Madhavan as Nambi Narayanan

Simran as Meena Narayanan

Misha Goshal as Geeta Narayanan

Shyam Renganathan as Shankar Narayanan

Gulshan Grover as

A. P. J. Abdul Kalam

Rajit Kapur as Vikram Sarabhai (Hindi and English versions)

Ravi Raghavendra as Vikram Sarabhai (Tamil version)
Other Cast:

Mohan Raman as Udupi Ramachandra Rao

Ron Donachie as Col. Cleaver

Phyllis Logan as Mrs. Cleaver

Vincent Riotta as Luigi Crocco

Sriram Parthasarathy as Barry Amaldev

Dinesh Prabhakar as L. D. Gopal

Bijou Thaangjam as Studio Personnel

Karthik Kumar as P. M. Nayar

Jagan as Scientist

Muralidaran as Arunan

Sam Mohan as Unni

Rajeev Ravindranathan as Param

Bhawsheel as Sartaj

Shah Rukh Khan as himself (guest appearance; Hindi and English versions)

Suriya as himself (guest appearance; Tamil version)
Release Date:

July 1st, 2022
Additional Details
Editor:

Bijith Bala

Cinematography: Sirsha Ray
Production House:

Tricolor Films,

Varghese Moolan Pictures, 27th Investments
Production Executive:

Gaurav Mishra, Smriti Jain

Sound Mix:

Kirill Belousov

Art Director:

Balram Sarkar, Nilesh Vishwakarma, Nenad Zdero

Lyrics:

Anurag Mishra

Chief Make-Up Artist:

 

Visnja Radosavljevic
Plot
Rocketry: The Nambi Effect sketches the life events of the former ISRO scientist and rocket engineer,  Nambi Narayanan. He is credited with developing the Vikas engine in ISRO. This engine is the most efficient liquid fuel engine used to propel the GSLVs and the PSLVs rockets into space. However, contrary to his inventions, Nambi was falsely accused of espionage and arrested in 1994. This movie portrays the real-life experiences of Nambi Narayanan from the age of 27 to 75. As it progresses, it reveals the mystery surrounding his arrest through an interview on a TV program. It also features the episodes of his acquittal by the Supreme Court of India in 1998. The movie perfectly captures Nambi's emotional and physical battle to uphold justice and truth for those four years. Additionally, the film portrays Nambi's indomitable spirit and arrogance throughout his painful journey. 
The Route to Rocketry
Madhavan first reported the work on Rocketry: The Nambi Effect in early April 2017 under Anant Mahadevan's direction. However, following a year's extensive research, Madhavan became the director after Mahadevan's exit. He also chose to alter the original script after meeting with Nambi Narayanan to collect a factual account of events. Hence, he designed a script, including Nambi's achievements and his espionage case in 1994. 
Rocketry: The Nambi Effect teaser
The Tricolor films announced the movie's title while releasing the teaser on October 31st,  2018. This event also marked the commencement of the film's production. The former scientist Nambi Narayanan himself graced the occasion. 
This most-anticipated film features Madhavan in the lead role as Nambi Narayanan and Simran as Meena Narayanan, who reunited on screen with Madhavan after 15 years. This film also features several Hollywood actors and special guest appearances by Shah Rukh in Hindi and English versions, while Suriya Sivakumar stars in the Tamil version. Most of the film's shooting took place from January to July 2019 across six countries such as India, Georgia, Russia, Serbia, and France. In addition, the film was parallelly shot in other languages like Hindi, English, Telugu, Malayalam, and Kannada. The film's trailer was released on April 1st, 2021, edited by Bijith Bala, and music by Sam. C.S., and Sirsha Ray's cinematography.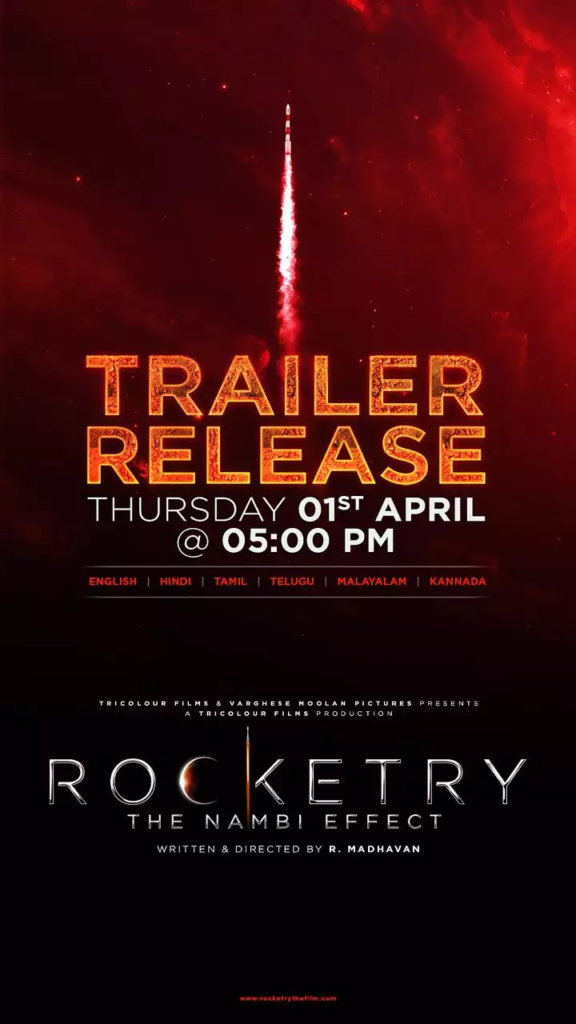 Madhavan recalled that the scientist called himself a fool, made out of patriotism, as the trailer release coincided with April fool's day. However, Madhavan dedicated his film to those fools who are unsung and unnoticed, making this world a better place to live with their patriotism. 
PM Modi on Rocketry: The Nambi Effect
Following the trailer release, Madhavan and the former ISRO scientist Nambi Narayanan met with Prime Minister Narendra Modi to show him clips from the film. These clips elicited appreciation from the Prime Minister, who quoted that the movie is a must-watch for people as it highlights the sacrifices our scientists made for the country. 
Meeting the Big Screens 
The film took 44 days to complete shooting, followed by post-production in July 2019. Following this, Madhavan revealed that the film was reaching its completion in August 2020. 
This action-packed film is expected to be theatrically released on July 1, 2022, delayed due to the COVID-19 pandemic. The film will be presented by Tricolor films combined with Varghese Moolan Pictures and 27th Investments. While UFO Moviez and Red Giant Movies have acquired distribution rights in India, Yash Raj Films and Phars Film Co. will be the official international distributors.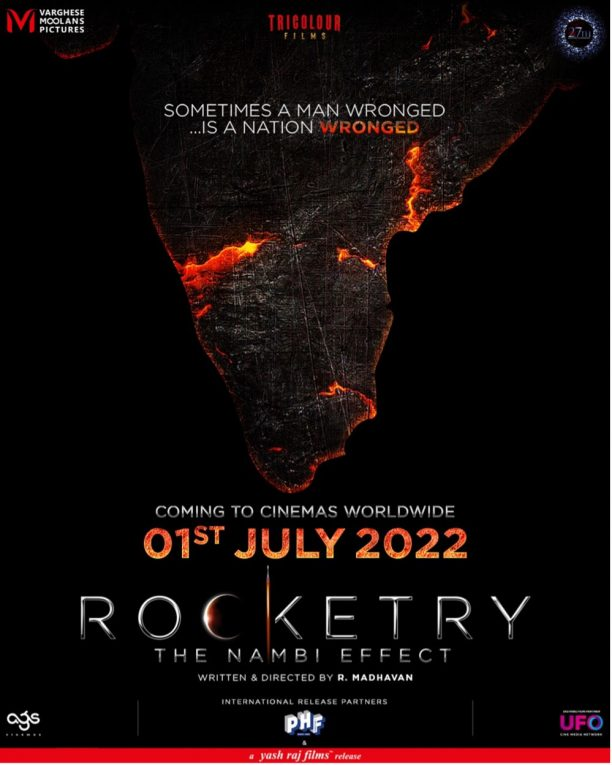 Cannes Film Festival 2022 
The Cannes Film Festival is an annual film festival that reviews movies of all genres in Cannes, France. The 75th Cannes yearly film festival has invited India as the country of honor, featuring it in its future editions. Hence, the Indian ministry of culture has selected this movie to be premiered at the Cannes Film Festival on May 19 at 9 pm to celebrate 75 years of diplomatic relationship with France. 
Madhavan was thrilled to hear his first directorial debut being premiered at the world festival. However, he added that he did not imagine it to happen as he directed the movie out of a strong desire to reveal the story of Shri Nambi Narayanan to the world. 
Trivia of Rocketry: The Nambi effect
The movie was simultaneously shot in English, Hindi, Kannada, Malayalam, and Telugu languages and will also be released in these languages.

The estimated cost of

Rocketry: The Nambi effect

is over 100 crores.

Madhavan took up to 14 hours of extensive makeup to closely resemble the former ISRO scientist Nambi Narayanan. This compelled the movie makers first to film the scenes where Madhavan appears like the aged Narayanan. 

Indian Prime Minister Narendra Modi has appreciated the movie for highlighting the sacrifices our scientists made for the country. 
Rocketry: The Nambi Effect Images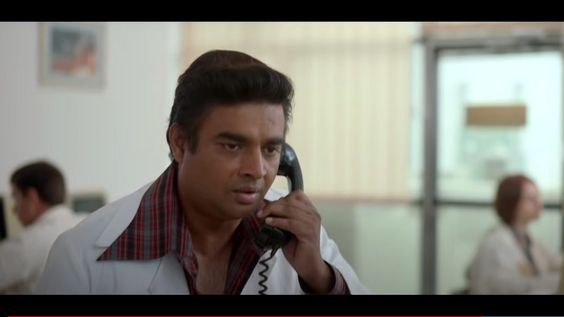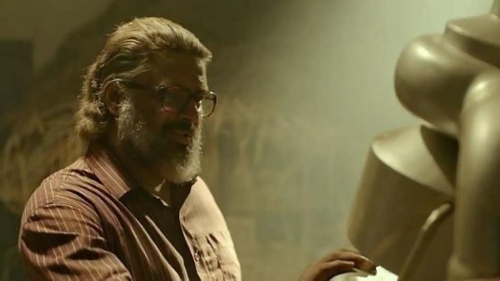 Image Source: Newsbytes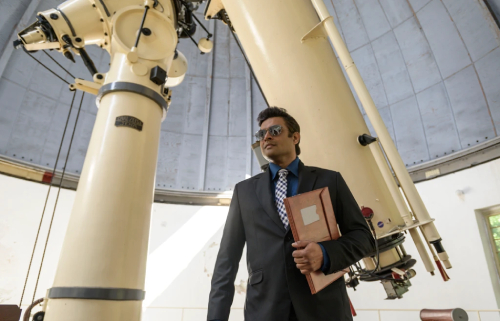 Image Source:Deadline
Image Source: Gossipchimp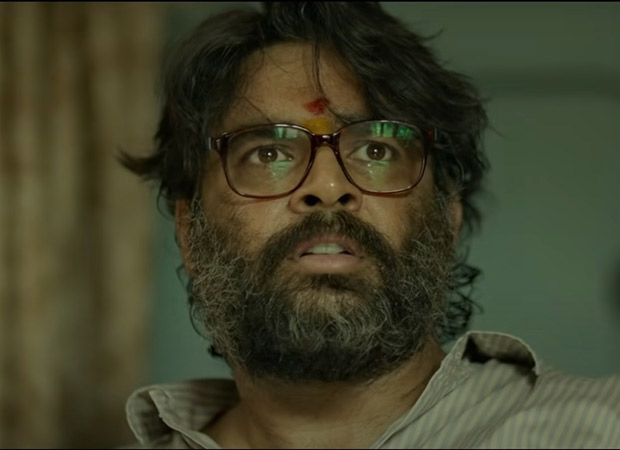 Image Source: Nexstartv