NFI'S SUMMER FILM CAMP HIGHLIGHTS:
2020 Summer Film Camp Dates:

June 8-12, 2020, 10am – 4pm :: 16yr to 18yr age group
July 27-31, 2020, 10am – 4pm :: 16yr to 21yr age group

Hands-on course about making movies.
Experience a broad spectrum of different job-types within the film industry.
Create and star in your own film.
Get a special glimpse into the lifestyle and work involved in being a professional filmmaker.
Over the span of the workshop, you will dive into making a film with NFI faculty. This includes script writing, filming, as well as casting and direction. Once the writing is complete, one script will be chosen to go into production and be filmed. This is a unique opportunity to make a film start to finish in a real-world environment.
If you're interested in the film industry, and want to feel what it's like to create and work on a film – well, then NFI's Summer Film Camp is for you!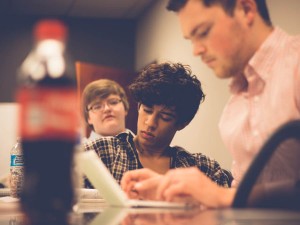 During this intensive, hands-on workshop you and your classmates will create a short film from start to finish. Learn by doing: screenwriting, film shooting, lighting, casting, directing, and more!
At the end of the week everyone in the will be a part of their own movie premiere where your film will be screened in front of fellow classmates, friends and family!
If you're an actor who normally works in front of the camera, this is also a great chance to quickly learn the other side to enhance your overall filmmaking skills.
Cost: $165.00 administrative fee
Ages: 16yr-18yr (Jun 8-12 session); and 16yr-21yr (July 27-31 session)
NFI Summer Camps are limited to 20 students to provide a lot of hands-on experience and individualized attention. The camp spaces will be filled on a first-come, first-served basis.
To register for the Nashville Film Institute Summer Camp, complete the online application and pay the $165 administrative fee. Remember, the camp size is small, and space will fill up quickly, so complete your application today to reserve your space! Apply online: https://my.nfi.edu/application/