More often than not, producers are regarded as people who finance a film. However, there are different types of producers. One such kind is an associate producer (AP). Let's have a look at the role of an associate producer.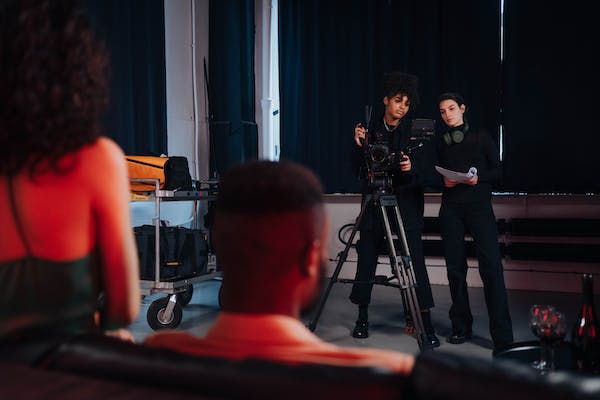 Associate producers are referred to as "below-the-line" since they're at the bottom of the totem pole and don't make final decisions; instead, they help those who do. However, becoming an AP is a fantastic role for a writer who wants to pursue a career in production, and it's a great place to start.
Who is an Associate Producer?
An associate producer works below the line and is supervised by another producer. The 'AP' is a common nickname for them. They help another producer put together a film or television episode. It is vital to have excellent writing and editing skills to become an associate producer.
An Associate Producer explaining her role in the film, "True Blood"
What Does an Associate Producer Do?
Writes, edits, and organizes television scripts, operates the teleprompter during newscasts, and assists the editor with shot selections.
An AP's responsibilities may include pitching story ideas, revising copy, and assisting with the series' editorial content on a TV show.
Assist with promotions and television bookings.
Supervising production employees includes hiring, coordinating, and organizing crew members.
Supervising lighting and sound designs, as well as coordinating set building.
Ensuring that the video or audio parts are transmitted in the correct order
Additional operational responsibilities include budget management, financial reporting, and progress updates.
Associate producer Jordan Schlansky explaining his role
Who Does the Associate Producer Work for?
An assistant producer mainly assists the Producer, the "suit" who brings in the money and makes meaningful choices. The title or kind of Producer to whom the AP reports may differ depending on the budget range.
An AP could, for example, work for an executive producer or a line producer on a higher-budget production. Of course, that's only for movies. Television is an entirely different platform, and the associate producer's job description can vary depending on the medium.
How to Become an Associate Producer?
An associate producer in film or television might take a variety of pathways.
It is a case of working your way up, as it is with most professions in the sector. The best suggestion is to start looking for production positions as soon as possible and get to know producers, as they are the ones who will ultimately hire you.
One alternative is to get a job as an assistant and work your way up from there. It's critical to soak up as much industry knowledge as possible. Building and sustaining positive relationships with individuals you meet on and off-set is an excellent foundation to lay. It's not simple to break into the entertainment world, but having people on your side is a good start.
Resume of an Associate Producer
While referrals are more usual, a strong resume might still be beneficial. We cannot stress the importance of experience enough, whether you're a producer wanting to recruit an AP or an AP searching for work. The assistant Producer interacts with various essential participants in the production process. Extensive professional TV or film experience becomes the cherry on the cake. A bachelor's degree in film/TV production, communications, broadcasting, or marketing is a terrific place to start. But keep in mind that it is not always essential.
Most of the time, quantifiable accomplishments trump the greatest GPA. Looking at specific projects that someone has worked on might give you a decent idea of their abilities as an AP.
If someone's resume lands on your lap and you realize they've worked on Deadpool or Moonlight, you've undoubtedly hit the jackpot.
You want to rely on your sidekick as a producer, not have to show them the ropes. Someone with industry experience and a thorough understanding of how everything works can provide you with a piece of advice when you entrust them with your job.
Role of an Associate Producer on Television
The role of a television associate producer varies depending on the production.
They usually report to a producer and collaborate with a production firm. In rare circumstances, the term could allude to a show's consultant writer. Though the title of consultant producer is more usual for this.
As the members of the production team can often wear multiple hats at once, the breakdown of producer titles in television is possibly more complicated than in feature films. In television, the term "producer" usually refers to a writer. Executive producers, for example, are frequent creators or showrunners.
In television, associate producers commonly collaborate with their peers. Still, they may also collaborate with researchers, runners, writers, field producers, supervising producers, and story producers.
Assistant producer vs. associate producer: what's the difference?
In television, the distinction between associate producers and assistant producers can be hazy. They are sometimes the same, and sometimes they aren't.
Both professions are similar in many aspects. However, the associate producer is more likely to get better opportunities to participate directly in the creative process in some circumstances.
Co-producer vs. Associate Producer
Co-producers, especially on films, usually are "above" the associate producer. However, the waters become murkier when it comes to TV producers.
In television, co-producers are frequently writers. However, depending on the manufacturer, the variances will vary. However, these two forms of producer credits are given to someone who has assisted in the film's production but does not have the authority of an EP or producer.
Executive Producers vs. Associate Producers
The film business employs a wide range of manufacturers. Depending on the project, each producer's approach differs.  An associate producer works under the manager producer, either as one group leader or as a multitasker. Although executive producers should take a step back to see the big picture, associate producers may be more hands-on regularly. Right from running media machinery to working with writers and reporters, associate producers play an important role.
Producers vs. Associate Producers

A Producer oversees, coordinates, and controls all parts of the production process for a television show, film, or broadcast. They lead the production's creative, technological, administrative, and financial components to ensure that it runs well. Producers are frequently involved in all stages of production, from start to finish. To ensure that enough employees are working on key projects and performing well, they often organize and allocate production responsibilities to members of the production team. Associate Producers frequently assist Producers in these jobs and ensure that everything runs smoothly.


Skills Required to Become an Associate Producer
Writing and Editing Skills
If you want to be an AP, you must have excellent writing and editing skills. When aiding the video editor in shot selection, they make editorial decisions; APs may be requested to write or change material to complement the shot. Other responsibilities include pitching story ideas, overseeing editorial content, and cueing tapes.
Ability to multitask and work under pressure
Because production projects have deadlines, an Associate Producer must be able to meet those deadlines even when they are tight.
Making decisions
An Associate Producer will be responsible for hiring and other crucial decisions.
Disagreement resolution
During the production process, conflict will inevitably develop; the Associate Producer must manage the situation and find appropriate solutions.
Leadership skills
To get the production crew to produce, an Associate Producer must be a good leader.
Excellent creative talents
An Associate Producer's job entails producing thoughts and ideas, creativity and originality are essential skills.
Curiosity: It's critical for this profession, especially in TV production, to stay current on trends and opportunities. Reading up on current events and viewing new shows and movies are your best partners for staying informed and remaining an indispensable AP.
Associate Producer salary expectations
An Associate Producer's remuneration varies depending on the size and type of production unit. It also depends on the education, experience, and talents of the Associate Producer. Associate Producers earn an average of $47,011 per year in the United States. This wage estimate is based on 16,717 data points gathered over the last 36 months from employees, users, and Indeed job postings.
As freelance AP, they can charge between $300 and $400 per day, depending on the budget. Companies may hire associate producers on an annual basis or pay them weekly.
Some associate producer positions come with additional benefits. Medical, dental, vision, and life insurance packages are available from some companies.
The bulk of associate producers are self-employed and work on a project-by-project basis. Many are employees of the same production business, and they collaborate on projects ranging from television to cinema to commercials.
If you are a seasoned freelancer who is not afraid to work for long hours, hopping from one AP gig to the next can be the best financial option.
Associate Producer Educational Qualification Requirements
To be considered for this position, an Associate Producer will mostly need a bachelor's degree in journalism, business management, marketing, or liberal arts. Additional advertising, editing, or production classes are usually beneficial.
An Associate Producer might gain significant experience by interning at a television station or working on student films.
Associate Producer Work Experience Requirements
Associate Producers have a variety of backgrounds; some have worked as authors, performers, or editors, while others have completed internships with trade groups. Depending on the exact work needs, the experience could range from one year to five years or more.
You do not require an extensive understanding of shooting a scene. Still, you should be familiar with the process and the people involved. This direct experience, frequently as an assistant, has taught me who does what and when.
Software used by Associate Producers
APs utilize many different types of software based on the field and the nature of the project.
Hotbudget, Movie Magic Scheduling, Final Draft, Google Suite, Adobe Premiere, and other tools may be required. However, the first on this list is primarily used by the UPM, line producers, or even coordinators who are assisting with the wrap on smaller shoots.
Others may use a simple scheduling program solely to keep track of their Producer's activities. Others may not use any at all. However, if you work on different projects simultaneously, you're bound to run into a couple of these.
Working Hours for Associate Producer
It may seem self-evident, yet most careers in this area are not your typical 9 to 5 work.
Associate producer employment can be freelance or full-time, depending on the scale of the film and the needs of the Producer and director. APs may be required to work weekends as well.
When you work for dedicated television production, you will be on set for the whole duration of the show.
It can often entail being away from home for months at a time, working Monday through Saturday. The overtime laws, however, will differ based on where you work. And whether you're an exempt or non-exempt employee will play a role in this.
If one wishes to work as an associate producer, what types of projects should he/she work on?
It all depends on the type of production you'd like to be a part of. For example, try to get a job on a television show if you want to work in the industry. On the other hand, if you're working in feature films, they are an excellent place to start.
The more experience you gather in a particular type of production, the more likely you will be recruited for that same type of production again in the future. And the more knowledgeable you get in that field, the better.
But, more importantly, the more time you spend working with the same producers, the more likely they are to recognize you.
What Are The Different Types of Producers in Film and TV Industry
To whom does the Associate Producer answer?
For their everyday activities and obligations, the Associate Producer typically reports to the Producer. The Producer is frequently in charge of big-picture responsibilities to ensure that the production process runs well. In contrast, the Associate Producer is responsible for extra tasks that the Producer is unable to complete. Associate Producers are responsible for ensuring that daily duties and issues on set are resolved, and they report their progress to the Producer. If they are unable to execute arduous responsibilities, they will seek direction and support from the Producer.
Is an Associate Producer Necessary?
It all depends on your financial situation.
Hiring an associate producer might not be the greatest option for you if you're currently scrambling to secure funding for your next shot. You might be better off handling
everything yourself unless a trusted friend or partner wants to step in as a favor and help reduce some of the logistical problems that come with creating.
However, if your budget allows, hiring an associate producer in film or television can save you countless hours of effort and allow you to focus on your core responsibilities.
How do you go about hiring an assistant producer?
Seek advice from individuals you know and can trust. Personal contacts, like with other positions in the business, can help you find someone trustworthy. Another option is to publish on job boards to locate someone immediately.
What does it mean to be given an associate producer credit?
Remember that the function of an associate producer is mostly dictated by the size, budget, and exact nature of the specific film in question, whether you're perusing IMDB pages, negotiating for your own AP title, or trying to employ your closest buddy as an AP on your next short.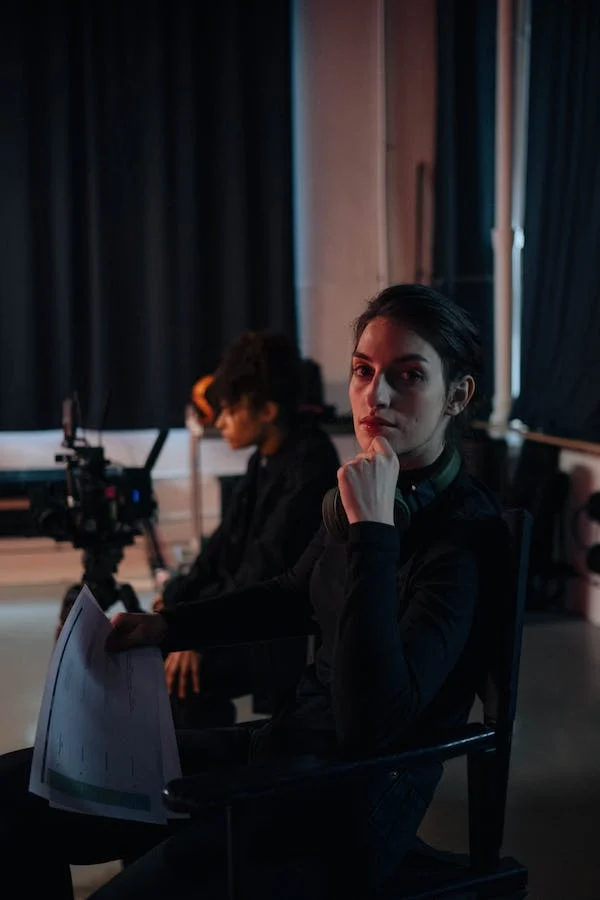 In other words, depending on the context, an associate producer's credit can signify almost anything. In the instance of True Blood, Gianna Sobol received an AP credit for a range of tasks, including script editing and creating content for the main character's blog on the show.
Conclusion
Each production business or Producer will, to some extent, create their associate producer description. Also, the Producer specifies how this position might meet his/her demands for the specific project or the client.
Being an associate producer is similar to being a gardener. You are not producing the plant but instead providing the environment in which it wishes to thrive.