TikTok has evolved tremendously from being just a video-sharing platform to a lucrative career choice for many. It has earned more users, mainly due to its richness and variety of content. On average, people spend around 68 minutes per day on TikTok. Hence, TikTok is looking for ways to encourage content creators to create and share content on the platform. Roughly, a TikToker who shares engaging videos earns 2 to 4 cents per 1000 views depending on a bunch of criteria. This article will unlock the different ways of making money through TikTok. 
How to make money from TikTok? 
TikTok creator fund
The most popular way to earn money on TikTok is through the TikTok creator fund. The TikTok creator fund is a program designed to share the income with TikTok creators who apply for the program. The TikTok creator fund was first launched in the spring of 2021, beginning with an initial investment of $200 million. This fund is paid out based on a variety of factors: 
The number of views.
The authenticity of views.
Engagement level.
Amount of content being published.
However, the TikTokers have to satisfy specific requirements to apply for the funds:
It would help if you were from the US, UK, Germany, France, Spain, or Italy.
You must be at least 18 years of age.
Must have at least 10,000 followers.
Must have at least 100,000 video views in the past 30 days.
Your TikTok account must adhere to the Community Guidelines. 
Once your account satisfies the criteria mentioned above, you will have to apply to avail the TikTok creator fund. Here is the procedure to apply:
Log into your TikTok account 

Under account settings, select 'creator tools.'

Under 'creator next,' click the 'creator fund' to apply. 
How much does TikTok pay?
Tik tokers earn around 2 to 4 cents per 1,000 views. This translates to an earning between $20 to $40 once your video has gained 1 million views. A viral video with 10 million views costs around $200 to $400 from the creator's fund. Every TikToker earns uniquely, and their earnings depend on various factors.
How Much TikTok Paid Me For 1,000,000 Views
Other Ways to make money on TikTok
Once your eligibility for the TikTok creator fund is approved, you will have built a community of followers for your content. From this point, you can harness the other ways to make money on TikTok. Here is a list of different ways to make money on TikTok.
Holding a live session
TikTok offers a real-time feature to go live and interact with your followers. You can collect donations from your followers online and earn money. The amount you make depends on the number of people who join your session.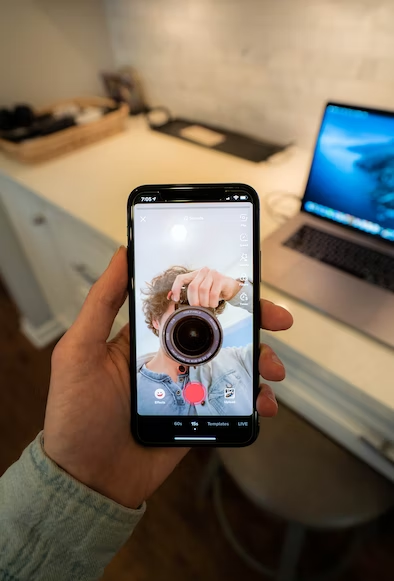 Virtual Gifts
While you interact with your followers online, they can send your virtual gifts. These gifts are given in the form of coins. These are then converted to diamonds before being deposited as real money in your account. Further, TikTok pays you if your account holds more than 1500 followers for live shows. Therefore, you can expect to earn around $100 for every 10,000 followers on live shows. 
Sponsorships
Yet another way to earn via TikTok is to collaborate with brands for sponsorship. If you have more followers, reach out to your favorite brands. Famous TikTokers charge $500,000 per post! Through these opportunities, you will have to include their products in your videos while showcasing them to your viewers. Again, this benefits the brand and yourself as you help them sell their merchandise. 
How to Get TikTok Sponsors | 5 Step Guide
Affiliate Marketing
You can include affiliate links to recommended products and services. You can receive a commission if your followers buy through these links.
Influencer Marketing
With several followers, established large-scale, medium, and small firms may approach you to promote their brands and products. This is one of the most effective ways to mint money on TikTok. Through your TikTok popularity, the brands may offer free products or even sign you up for their ad campaign in return for your promotion. According to Forbes, TikTokers earn between $100,000 and $250,000 for a branded video, with celebrity TikTokers earning up to $500,000 per post. Usually, TikTokers are paid based on their level of engagement.
Merchandise
You can showcase your products and inspire your followers to buy them. 
Video Platform
You can create on-demand exclusive videos and charge your followers to access them. 
Creator Marketplace
A creator marketplace is a collaboration space that TikTok offers for matching brands with influencers. 
How to Hire TikTok Influencers Using the TikTok Creator Marketplace
Tips for getting paid on TikTok
Know your audience
Your first and foremost goal as a newbie should understand your audience. For this, you must look to others for inspiration. This will give you an idea of the steps you could take toward content creation. It could be promoting products, selling your merchandise, or just a goal to make money out of TikTok. Once you filter out and understand the strategies, apply them to action to begin. Remember to stick to the TikTok community guidelines and avoid posting offensive content.
Highlight your niche with your content
Your focus should be adding more of the type of content you wish to deliver to your audience. Make your profile unique with the content ideas and videos that you post. Again, this will target a group of the audience you can focus on with your content. 
20 TikTok Content Ideas and Examples for Brands
Build a community of followers
Once you target your audience, your next strategy will be to build a community of followers. You can achieve this through the consistent creation and promotion of content through other channels of social media.
How to Create a Strong Community on TikTok
Showcase Authenticity
Social media users are often attracted to authentic content that adds value to users. It can be entertaining or informative, significantly leaving an impact. This will make them resonate with your content, making it more genuine and appealing.
Maintain Transparency
Transparency is vital, especially when you're dealing with sponsored content. Your openness about the genuineness of the product speaks a lot more about you than your content. You can also appropriately utilize the branded content toggle. 
Make your content spicy
Although you stick to the regular schedule of your niche, you must include something funny that also reveals your favorite pastime activities or talent. You mustn't direct your content only toward making money. 
Persevere 
It is challenging to make money on TikTok. If you lose a brand or influencer, propel yourself further to create more videos. Research, try, and think to create innovative videos. This way, you will get back on track.
Who makes the most money on TikTok?
Here is a list of TikTokers who have earned the most in 2022. 
Frequently Asked Questions
How much does TikTok pay you for 1 million views?
TikTokers who receive up to 1 million views earn between $20 and $40.
How much does TikTok pay per 1,000 views?
TikTokers are paid around 2 to 4 cents per 1,000 views. 
How much does TikTok pay for views?
TikTok pays its qualified creators using their creator fund. Although the company doesn't disclose the actual structure of the payout, the best-estimated payout is 2-4 cents per 1,000 views.
How much does TikTok pay for likes?
No, TikTok doesn't pay you for the number of likes your video receives.
How much does TikTok pay monthly? 
TikTok rewards its qualified creators with a sum of money based on the number of views their videos earn. 
How much does TikTok pay for gifts? 
TikTok allows their fans to send virtual gifts for specific videos of their creators. You can exchange these virtual gifts for real-time money. For example, if they gift a diamond, it is worth 5 cents, whereas a drama queen is worth  $125. However, a creator can withdraw only after making a minimum of $100. 
How much does TikTok pay for 10 million views?
TikTok pays between $200 and $400  for 10 million video views. 
How much does TikTok pay for 500k views?
TikTok pays between $15 for 500,000 video views.
Can I be financially successful in TikTok?
Yes. You can be financially successful and get paid by TikTok, but it requires a lot of effort and creativity to make a mark. Here's a glance at successfully establishing your career in TikTok. 
Be passionate about posting quality short videos.

Influence your followers with an attractive personality.

Use monetization tools effectively on the TikTok platform.

Consistently post videos

Know the

best time to post on TikTok

to draw your followers' attention.

Go viral on TikTok by promoting your content on other social media platforms such as Instagram, Twitter, and Facebook.
Final Thoughts
Summing up, earning your living through TikTok requires time and creativity. It takes a lot of consistent effort from your end to achieve that feat. However, it is achievable as TikTok has unlocked different ways for you to make money. As a TikToker, you may not earn a fixed income, but it varies depending on the number of subscribers, your audience's location, and your content.